Cloudways, Genesis Framework and MultilingualPress plugin are an excellent combination for any type of multilingual project with WordPress. These are the 3 basic elements I use on this blog. Here is why I chose them.

Introduction
Making a multilingual website with WordPress is no easy task. There are many things to be considered:
Choosing between a single WordPress installation or WordPress Multisite.
The choosing of a theme that is "translation ready" and that is preferably already translated in several languages to save time and money.
The choice of a translation plugin that will synchronize and organize in an efficient and quick manner each of the contents of WordPress (i.e. pages, titles, categories, etc.)
Whether to manage a team of translators or choose the services of a translation agency.
…
In the search for the best possible combination for this multilingual blog, I have made several different changes some of which are :
Utilizing a new hosting, Cloudways, which allows easy hosting for any WordPress installation (including WordPress Multisite installations) in more than 30 geographical locations, and in the infrastructure of Digital Ocean, Vultr, Amazon or Google Cloud Engine.
Utilizing a new child theme of Genesis, excellent framework that has already been translated into more than 30 languages.
Using a new plugin for content translation, MultilingualPress, that allows me to manage translations in an easy manner through WordPress Multisite.
In this post I will be explaining the motives for such change, for which I have been trying to find the best combination for my multilingual project of WordPress.
1. Cloudways: more than 30 geographical locations
After a year and a half of existence, this blog now reaches a daily viewing of 1000 views (some 45.000 pages visited a month). So I can successfully manage the content of different languages, this website uses a WordPress Multisite installation which requires a lot more resources than an individual WordPress installation.
For these reasons, I have decided to go from a shared hosting to a managed cloud hosting.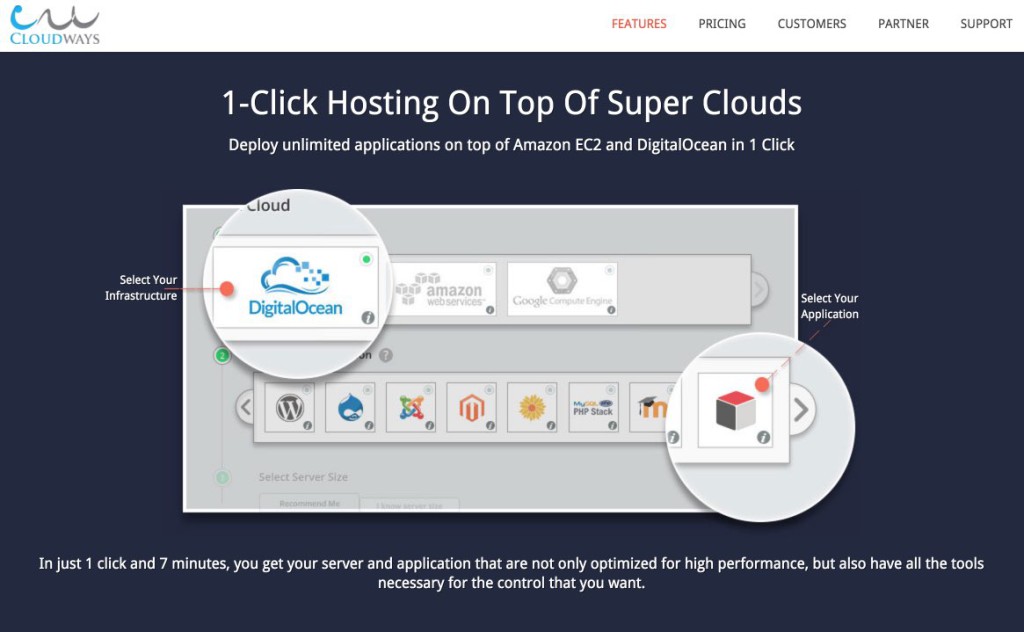 Of the hundreds of options on the market and after a free trial period, I have settled for Cloudways. There are several reasons why.
Cloudways is a service that works differently than any other traditional hosting service. For starters, it offers managed cloud hosting, which means they configure your server, apply security measures, and keep your software updated. This saves a lot of time for people, that like me, have very little time, and very basic knowledge of managing a server.
But the servers that Cloudways manages are not theirs, but instead they use some of the most advanced infrastructures in the world: Digital Ocean, Vultr, Amazon Web Services and Google Cloud Platform.
Through the servers of these platforms, it's possible to host a website in more than 30 geographical locations in Europe (Amsterdam, Paris, Frankfurt, London, etc.), North America (New York, Los Angeles, Dallas, Chicago, Miami, San Francisco, Silicon Valley, Toronto, etc.), South America (Sao Paulo), Asia (Singapore and Tokyo) and Australia (Sydney).
This way, through a controlled panel, that's very easy to use, you can have your own server in the cloud, install WordPress in one click or migrate your previous WordPress whether it be individual or Multisite). Prices are quite reasonable (from 5 dollars a month you can have your own server, but for a small project).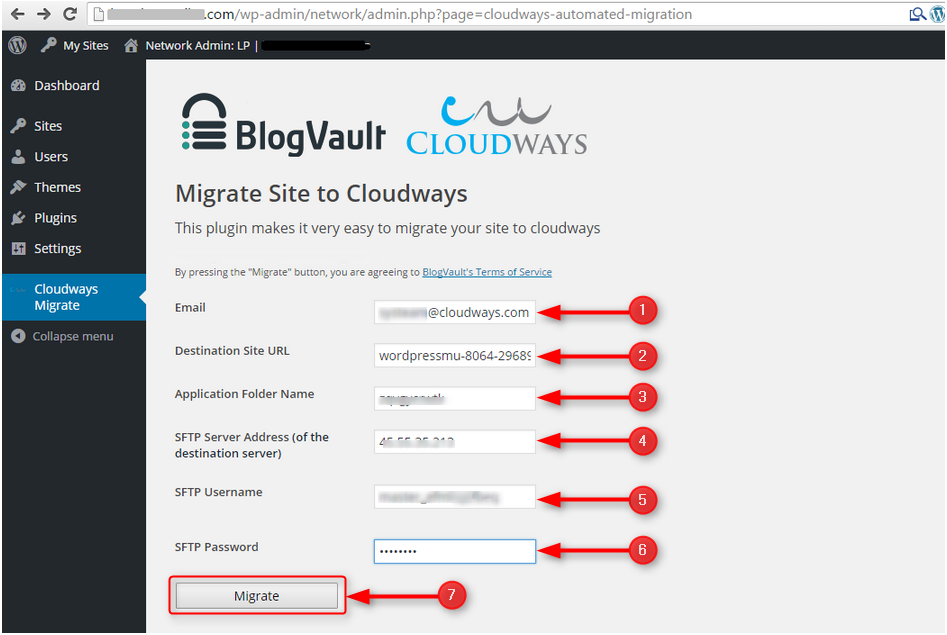 2. Genesis Framework: more than 30 languages
The other change of this website goes along with a new child theme from WordPress based on Genesis Framework. Genesis is ideal for multilingual projects, considering that their texts already come translated in more than 30 languages.
But to give Genesis a good design it's necessary to have a child theme. Of tons of available options, I finally chose the Caroline theme developed by the company Web Savvy Marketing.
We know that Genesis Framework is already translated into several languages, but that's not always the case with the child themes, so I have had to translate some text strings that came with the Caroline theme.
Even though this particular theme is usually targeted for universities or educational institutions, it adapts perfectly to the content of this website, and to the possibility of in the future incorporating a forum, or learning platform with the LearnDash plugin, since the theme is already prepared for it.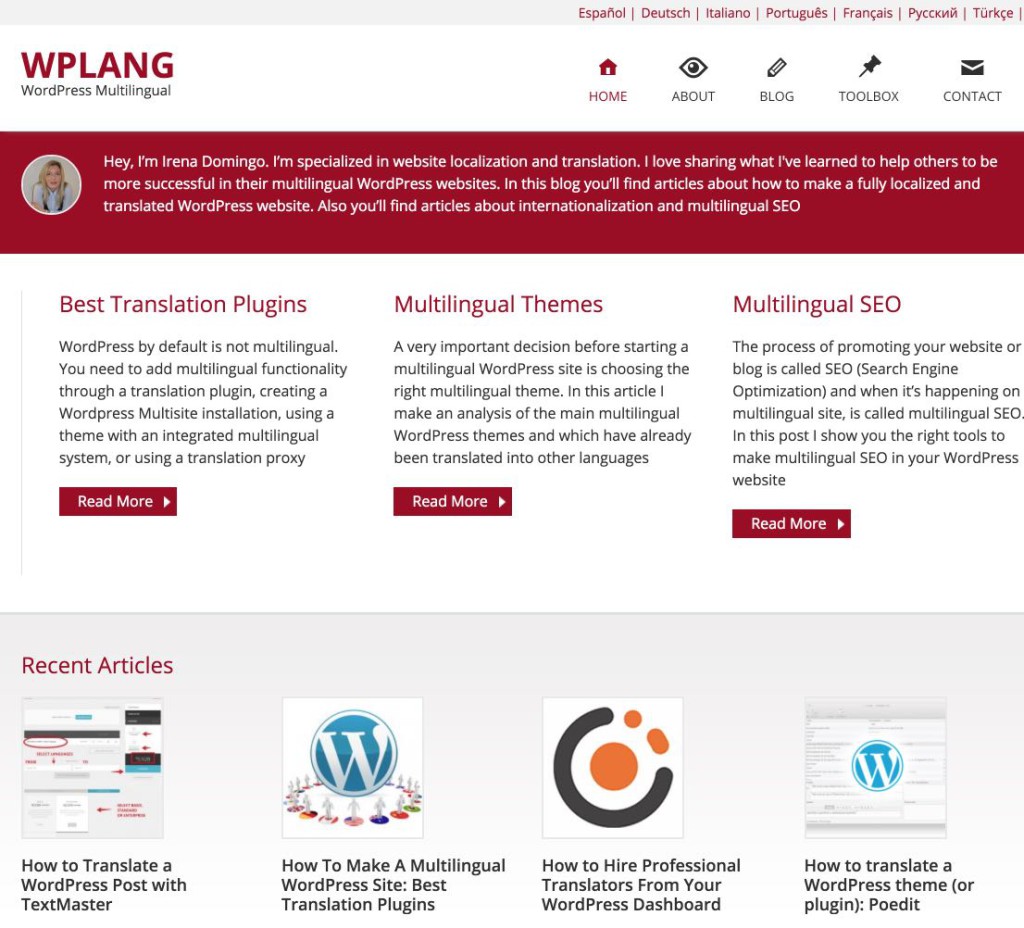 3. MultilingualPress: the best option for WordPress Multisite
This website was designed with WordPress Multisite, which means every subsite, corresponds to a different language. Until recently, to connect the different versions I would use Multisite Language Switcher, which is a great plugin but has less functionality as the one I use now: Multilingual Press.
Multilingual Press is completely free as of september of 2015, but if you want tech support you need to pay for that (99 dollars a year). And the truth is it's the most complete plugin to make a multilingual website with WordPress Multisite.
It provides excellent functionalities: you can see on the same screen the different translations, you can duplicate an entire website on the network, the dashboard can be personalized to fit the language of each user, redirection to the preferred language of the user, etc.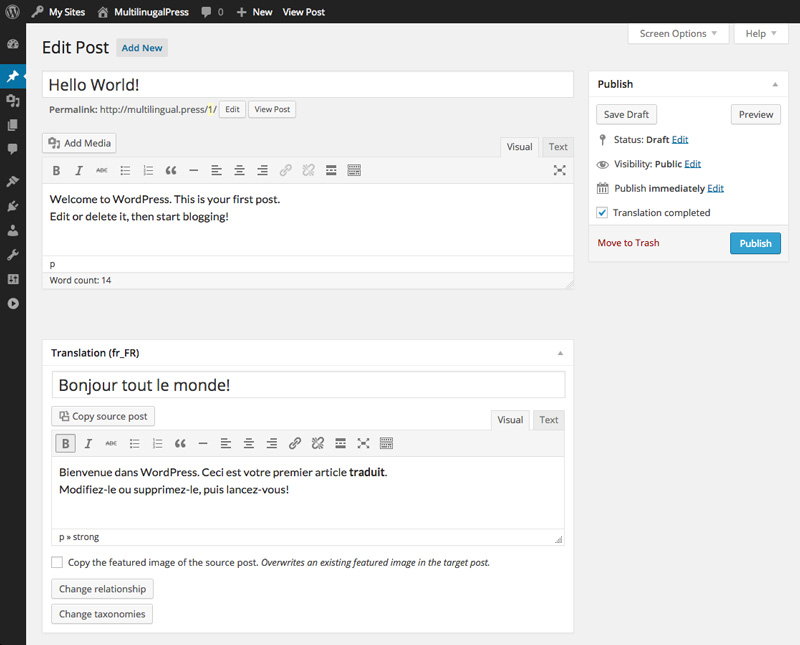 In conclusion
The combination of Cloudways, Genesis Framework and MultilingualPress is ideal for multilingual projects with WordPress, but obviously not the only combination possible. What hosting, theme, and translation plugin combo do you use for your multilingual projects?