You want to make a professional multilanguage WordPress site. And there are certain multilingual themes, plugins and services that I've come to rely on. I use these resources because they work. They also save me time, money and help me get better results.

There are many things to consider when it comes to publishing in multiple languages. Arm yourself with the right tools:
Multilingual themes
Multilingual plugins to translate contents
Multilingual contact forms
Social Share buttons with internationalization features
Professional translation service specializing in WordPress
1. A multilingual theme framework that is light weight
I use two multilingual frameworks:
Genesis Framework. Many WordPress themes are not multilingual ready and many other come fully loaded with impressive features that you may never need to use. I use the Genesis Framework by StudioPress for most of my multilingual websites because it's light weight and built with speed in mind. Genesis Framework is translated into over 30 languages.
Price: $59.95 (one-time payment)
ElegantThemes. Beautiful and elegant design. EleganThemes have been localized for easy translation. Divi theme is 100% translated (back and front-end) into 32 languages and comes with RTL support. The rest of themes come translated to English, German and Russian.
Price: From $69 year
If you need to translate your theme into other languages:
Poedit. It's a software (available for Windows, Mac and Linux) which you can use to translate your theme into other languages. It's available for free on poedit.net. Free version comes with a builtin translation memory that remembers your past translations and uses them to make suggestions for similar texts.
Price: Free
2. A multilingual plugin to translate your content
Depending on each project I recommend using one of these multilingual plugins to translate contents:
WPML (WordPress single). If you want to find an easy way to translate a WordPress site, this plugin is the answer. It's very easy to use and has some great features. WPML lets you do SEO for each language. Even you can hire professional translators from within the WordPress admin dashboard.
Price: From $29
Multisite Language Switcher (WordPress Multisite). A simple and easy to use plugin that will add multilingual support to a WordPress multisite installation. This plugin enables you to manage translations of pages, posts, custom post types, tags, categories and custom taxonomies.
Price: Free
Multilingual Press Pro (WordPress Multisite). Working on top of Multisite, this excellent plugin enables you to create a network of sites in different languages, all interconnected with and related to each other. If you have a medium or large WordPress site and performance is important for you, Multilingual Press is the best choice.
Price: Pro version from $75 (It also has a free version)
MORE DETAILS Multilingual Press Review
3. Multilingual contact forms
Contact Form 7. This plugin displays contact forms in american English in its default settings, but you can create contact forms in more than 60 languages. This way you can easily make a contact form in two o more languages. Also, you can use Contact Form 7′s administration dashboard in your language.
Price: Free
4. Social share buttons with internationalization features
Easy Social Share Buttons. Easy Social Share Buttons is a social sharing plugin that provides support for many social networks around the world and comes with internationalization and localization features. Great for a multilingual WordPress site.
Price: $14
5. A professional translation service specializing in WordPress
One of the main problems when making a multilingual WordPress site is to find a translation service (or a professional translator) who knows WordPress and specialized in the content of your website, whether it is technical knowledge (medical, engineering, etc) or creative writing experience (marketing content).
There are two professional translation options available for translating your website that are integrated directly into WordPress. This way you avoid having to copy and paste text into Word:
TextMaster. TextMaster is a startup translation company that offers professional translation, web content writing and proofreading services by native speakers in more than 20 languages. It has developed a free plugin, WP TextMaster, that gives you access from the WordPress admin panel to writers and translators. This plugin is seamlessly integrated with human translation plugins (WPML, Polylang, mqTranslate, etc). So all you need to do is enable multilingual posts or pages and automatically replace the text in those languages. Before starting you must create a free account on their website.
Price: From $0.039 per Word
ICanLocalize. This professional service only works with WPML. ICanLocalize is the author of WPML. Receive a translation quote, send content for translation and get them back, ready to publish. It all happens with minimal effort and the best integration. You'll need Multilingual CMS version that costs $79, but when you purchase, you get a $30 coupon for translation. First you must create a free account at ICanLocalize.
Price: Starting at $0.09 per Word.
6. Website Word Counter
When you need to know how much it would cost to translate a website, you can use Website Translation Calculator which can crawl a website and provide you an instant translation quote.
By default it checks all sitemap links or tries to crawl the entire website if the sitemap is missing. It also allows to specify which pages should be included in the translation quote.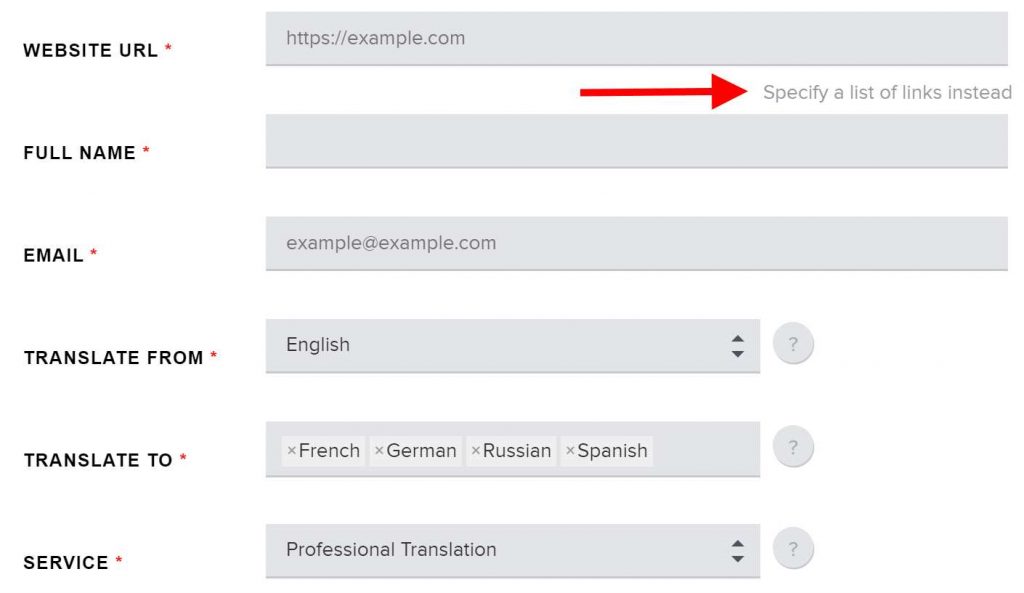 This tool is developed by GTranslate which provides solutions for making websites multilingual and also has automatic translation post-editing service and professional translation services available for website owners who use GTranslate to make their website multilingual.

This is how much it would cost to translate 4 pages of this blog from English into Russian professionally.