One of the main problems when translating a WordPress website is to find a translation service (or a professional translator) who knows WordPress and also is specialized in the content of your blog, whether it is technical knowledge (engineering, medical, etc) or creative writing experience (marketing content).
There are two great professional translation options available (with their pros and cons) for localize your website that are integrated directly into WordPress: TextMaster and ICanLocalize. These services give you access from the WordPress dashboard to a large number of translators (or even writers) who can help you to make your site multilingual or create engaging content for your blog or website.
This way you can manage translations form your WordPress admin panel more efficiently since you avoid having to copy and paste text and you can keep links, images, etc of your original WordPress pages.
1. TextMaster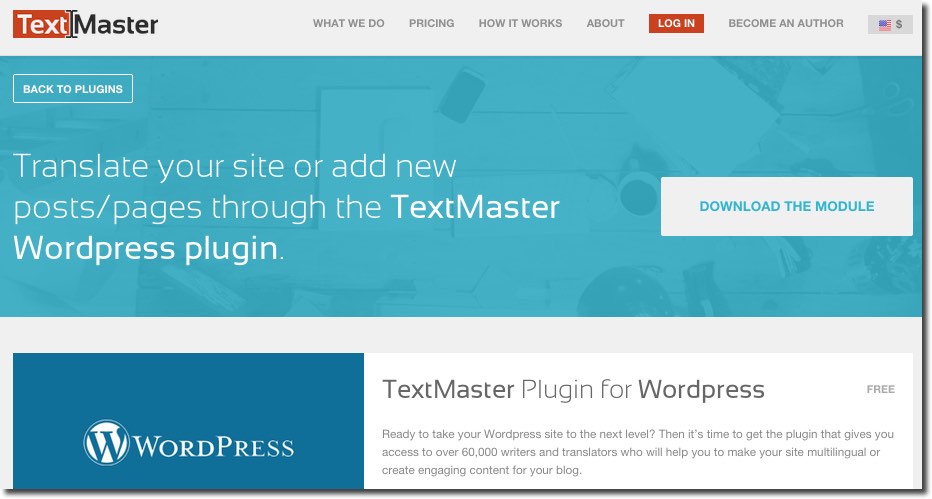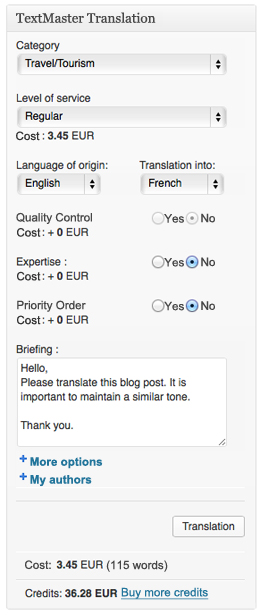 Recently I've been using a free WordPress plugin to order professional translations of some articles of this blog into German. This plugin has been developed by a startup called TextMaster, that offers professional translation, web content writing and proofreading services by native speakers in more than 20 languages.
This plugin, called WP TextMaster, gives you access from the WordPress admin panel to over 60.000 writers and translators. No matter what translation plugin you're using. WP TextMaster plugin is seamlessly integrated with human translation plugins (WPML, Polylang, mqTranslate, etc). The plugin is visible in your sidebar when you create or duplicate posts or pages. Once you placed your order for translation, proofreading or copywriting, you'll see a notification when it is complete. So all you need to do is enable multilingual posts or pages and automatically replace the text in those languages.
Advantages
It's free to download and with the automatic wordcount feature in WordPress, you'll see an instant quote before you order
You can use it with most of human translation plugins: WPML, Polylang or mqTranslate
More than 20 available languages: English, French, German, Spanish, Italian, Portuguese, Norwegian, Swedish, Finish, Polish, Russian, Mandarin Chinese, Greek, Arabic, Japanese, Korean, Dutch and Danish. They can also translate between any language pairs on demand
Translation rates: Basic $0.039/Word (best suited for basic website content). Premium $0.078/Word (best for SEO web content, web pages and app content)
Proofreading service. If you're not feeling confident about the quality of your web content (maybe you're not good at grammar), you can have it proofread and automatically reintegrated into your WordPress site ($0.026 per word)
Copywriting. It also includes the option to add multilingual SEO web content to your site. Just create a new copywriting order, write your instructions in the body, enter the desired word count, specify your keywords and click Order ($0.02/word)
Disadvantages
You can't send to translate widgets, categories and tags. What I do is create a post with all these texts, send it to translate and then copy and paste texts in widgets and categories
It involves installing another plugin. I recommend disabling the plugin when finished translations
How to use it?
Before starting you must create a free account on their website
Once the account is created you must install WP TextMaster plugin. In your WordPress dashboard go to TextMaster > Settings, and enter your log in details (email and password)
Add credit to your account using your credit card, Paypal or bank transfer. That's it. You can start ordering translations or proofreading services from your WordPress admin panel
Completed translations appear back in your site
2. ICanLocalize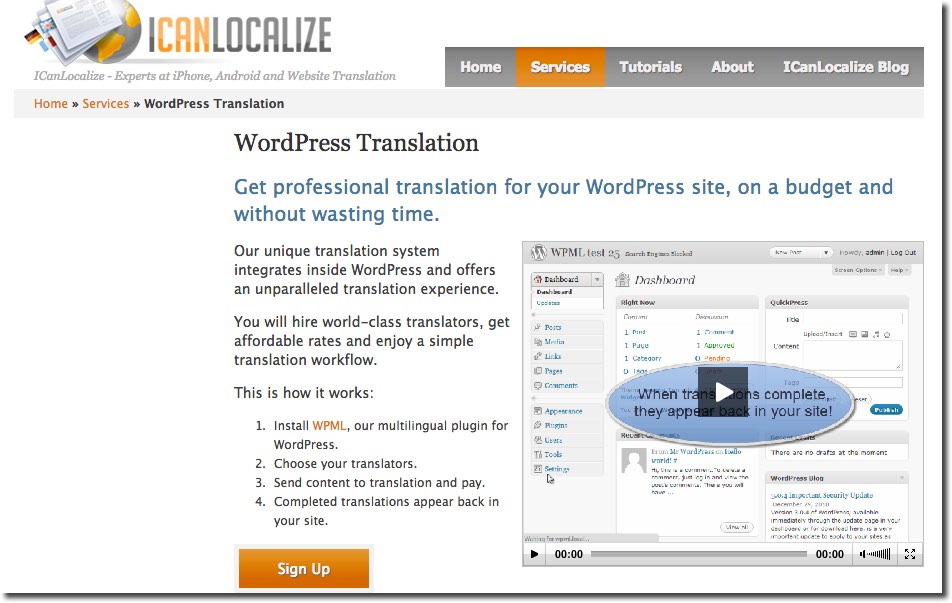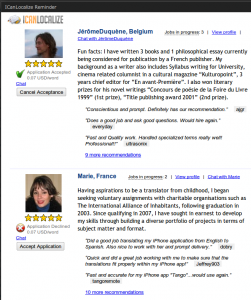 ICanLocalize is the author of WPML, the best known WordPress translation plugin. They know exactly what it takes to run a multilingual WordPress site. Their own site is using WPML and ICanLocalize translations services.
You can receive a translation quote, interview and choose translators, send content for translation and get them back, ready to publish
Advantages
ICanLocalize is fully integrated into WPML. No need to install another plugin
You can translate everything (posts, pages, widgets, categories, tags, menus, etc) and you can see an instant quote before you order
You can choose your translator from the WordPress dashboard. There are many professional translators experts in different fields. You can find the ones that are best for your website content
There are more than 1000 translators and translating between over 45 languages
Provides translation and proofreading services
Disadvantages
This translation service only works with WPML. Note that you may purchase the Multilingual CMS version that costs $79
Translation rates are between 0.09 to 0.14 USD / word, depending on the language pairs and required fields of expertise.
They don't provide copywriting services
How to use it?
First you must create a free account at ICanLocalize
Install WPML (including WPML Translation Management Module)
From your WordPress dashboard choose your translators, send content to translation and pay using credit card, PayPal or bank transfer
Completed translations appear back in your site.
3. Other alternatives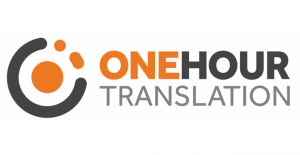 You can find alternatives such as:
Are you using any of these translation services? I would like to hear your experience using translation services integrated in WordPress